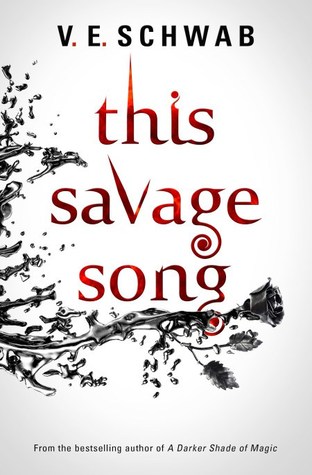 PUBLISHER (UK):
Titan books
RELEASE DATE (UK):
June 7th 2016
SYNOPSIS

(via Goodreads)

:
There's no such thing as safe in a city at war, a city overrun with monsters. In this dark urban fantasy from author Victoria Schwab
,
a young woman and a young man must choose whether to become heroes or villains—and friends or enemies—with the future of their home at stake. The first of two books.

Kate Harker and August Flynn are the heirs to a divided city—a city where the violence has begun to breed actual monsters. All Kate wants is to be as ruthless as her father, who lets the monsters roam free and makes the humans pay for his protection. All August wants is to be human, as good-hearted as his own father, to play a bigger role in protecting the innocent—but he's one of the monsters. One who can steal a soul with a simple strain of music. When the chance arises to keep an eye on Kate, who's just been kicked out of her sixth boarding school and returned home, August jumps at it. But Kate discovers August's secret, and after a failed assassination attempt the pair must flee for their lives.
MY THOUGHTS:
I was expecting to love this book before it was even published. I adore V.E Schwab's Darker shade of magic series (Is that even what it's called? Anyway...), and the synopsis sounded exactly like something I'd really enjoy, so my expectations were very high. I did not, however, expect it to become my favourite book of the year.
This review is probably just going to be me gushing, so don't expect it to be particularly insightful (or to make a whole lot of sense).
I already knew V.E. Schwab's writing was gorgeous, but in this book it really blew me away. Her style is so unique and poetic and I'm now certain that she's one of my favourite authors of all time. She creates such a captivating and mysterious atmosphere in this book that I just felt like I was a part of the story, and once I was immersed in it I couldn't get out.
The world she created for this book is so unique and interesting, I just wish we'd gotten to learn more about it!
Take this as a warning from me; this book will screw you up emotionally. I think I cried for the entirety of the time it took me to read the last 150 pages. There are so many little moments that broke my heart, and twists that made me want to throw the book at the wall, and by the time I finished it I was kind of exhausted from the emotional rollercoaster this book took me on. A lot of this was down to how much I connected to the two main characters, who were so unique and flawed and human (even though one of them isn't a human at all) that I couldn't help but feel for them. The other characters were fascinating too, and again I just wanted to know more about them and their backstories.
If I have to complain about something (and I do, because this is supposed to be an objective review) it would be that I didn't really know what was happening for probably the first 80 pages. That's not necessarily a bad thing, and I was glad there wasn't a ton of exposition at the start, but it did mean that it took me a while to really get into the world and the story.
IN CONCLUSION:
This savage song has a fascinating premise, gorgeous writing and characters I completely fell in love with, all of which made it my favourite book of the year so far. It also crushed my soul, so there's that.
5/5 STARS