THIS BOOK WAS PROVIDED TO ME FOR FREE IN EXCHANGE FOR AN HONEST REVIEW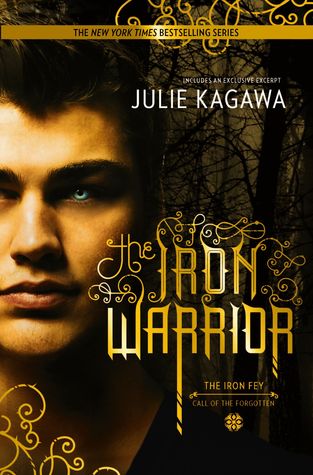 TITLE:
The iron warrior
AUTHOR:
Julie Kagawa
PUBLISHER:
Harlequin Teen
RELEASE DATE:
27th October 2015
SERIES:
The Iron Fey:Call of the Forgotten, book 3
SOURCE:
E-ARC from netgalley
SPOILER ALERT: THE SYNOPSIS FOR THIS BOOK CONTAINS SPOILERS FOR PREVIOUS BOOKS IN THE SERIES, THEREFORE I HAVE DECIDED NOT TO INCLUDE IT IN THE POST. IF YOU'VE READ THE BOOKS, YOU CAN FIND THE SYNOPSIS HERE.
MY REVIEW WILL NOT CONTAIN SPOILERS FOR ANY BOOKS IN THE SERIES.
MY THOUGHTS:
The iron fey series has been one of my favourites for years, so of course the final book was one of my most anticipated reads of the year (especially after that cliffhanger. Damn!). It's fair to say I freaked out when I was accepted to read it early from netgalley (I'm not going to lie, there were actual tears), and I dropped everything I was supposed to do that weekend to read it. My expectations were ridiculously high, but I am SO glad to say they were met!
One of my favourite things about this series has always been the characters, and I'm glad to say I loved them just as much in this book as I always have. Ethan and Kenzie have the cutest banter, and all of the other characters are either really likable or really interesting to read about. I really loved seeing some of the characters from the original Iron Fey books back again (in fact I actually wanted to see a lot more of them), and overall I'm just so attached to and emotional about this cast of characters.
I always love Julie Kagawa's writing, and of course this book was no exception. It was really fast paced and easy to read, but at the same time there were some really beautiful and vivid descriptions that definitely helped me to picture the things in this strange, almost surreal faery world. There were also a few descriptions and scenes that were slightly terrifying, and one scene in particular involving a carnival (if you've read the book, I'm sure you know what I'm talking about) may have scarred me for life. Thanks Julie.
She's also brilliant at making me feel ALL THE FEELS, and this was even more evident in this book than usual. I laughed and I squealed and I cried so much I scared people on the bus, and I really think that says a lot about how well Julie managed to make me connect to this series and it's characters.
As it's the last book in the series, I was really worried that the ending was going to be anticlimactic and I was going to hate everything that happened, but luckily that wasn't the case. I thought the final action scene was suitably tense and dramatic (and emotional. Everything was emotional), my only critique was that it all wrapped up a little bit too neatly. The ending was bittersweet, which is exactly how I like my endings, and overall I was really satisfied with how everything came together in the end.
If there's anything I want to complain about, it'd just be that I thought a few scenes dragged despite the general fast pace of the story. There's also the fact that I never wanted this series to end I miss the world and characters already, but I guess all good things must come to an end...*sniffles*
IN CONCLUSION:
The Iron Warrior is an almost perfect ending to one of my all time favorite series, with the perfect amount of action and heartache and a satisfyingly bitter-sweet ending. It has everything I always love about Julie Kagawa's books, just with that extra level of epicness that you need in a series finale.
Damn, I really do miss this world already.