THIS BOOK WAS PROVIDED TO ME FOR FREE IN EXCHANGE FOR AN HONEST REVIEW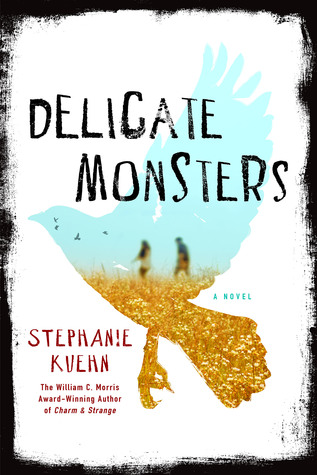 TITLE:
Delicate monsters
AUTHOR:
Stephanie Kuehn
PUBLISHER:
St Martin's Griffin
RELEASE DATE:
June 9th 2015
PAGE COUNT:
240
GOODREADS:
X
SOURCE:
E-ARC from netgalley
SYNOPSIS:
From the Morris-Award winning author of
Charm & Strange
, comes a twisted and haunting tale about three teens uncovering dark secrets and even darker truths about themselves.
When nearly killing a classmate gets seventeen-year-old Sadie Su kicked out of her third boarding school in four years, she returns to her family's California vineyard estate. Here, she's meant to stay out of trouble. Here, she's meant to do a lot of things. But it's hard. She's bored. And when Sadie's bored, the only thing she likes is trouble.
Emerson Tate's a poor boy living in a rich town, with his widowed mother and strange, haunted little brother. All he wants his senior year is to play basketball and make something happen with the girl of his dreams. That's why Emerson's not happy Sadie's back. An old childhood friend, she knows his worst secrets. The things he longs to forget. The things she won't ever let him.
Haunted is a good word for fifteen-year-old Miles Tate. Miles can see the future, after all. And he knows his vision of tragic violence at his school will come true, because his visions always do. That's what he tells the new girl in town. The one who listens to him. The one who recognizes the darkness in his past.
But can Miles stop the violence? Or has the future already been written? Maybe tragedy is his destiny. Maybe it's all of theirs.
MY THOUGHTS:
I honestly can't say I enjoyed Delicate Monsters, but I was completely enthralled by it.
It's a very strange book, unlike anything I've read, and even though sometimes I thought it was a little bit too strange I was always fascinated by what was going on. Stephanie Kuehn's writing is brilliant at sucking you into the world and keeping you completely fascinated in the story, and since I really didn't think there was much going on in terms of plot (more on that in a second) this was really important.
Like I said, there really wasn't much of a plot going on. The synopsis makes it sound like it's going to be some action packed mystery, but most of the things mentioned in it didn't actually come up until right at the end. The focus was definitely more on the writing and the characters, which I didn't mind personally, but if you're going into this book for the plot then I think you'll be disappointed.
It's a pretty short read (I got through it in one sitting, and it only took maybe an hour and a half) and this left me feeling like I just wanted a little bit more on the story. Maybe if it had just been fifty or so pages longer some of the plot lines could have been expanded on, and then I definitely would like it more.
Stephanie Kuehn's writing, as well as making a seemingly very slow story very compelling, perfectly captured the creepy, unsettling atmosphere that this book needed to work. It's seriously disturbing and dark at points, and there are certain moments and images that have continued to haunt me ever since I turned the final page (or clicked the final page, since I read it on my phone). I think this would be a great book to read during the Halloween season, but only if you don't mind the kind of eerie reads that really mess with your head. I also want to warn everybody that there are some pretty graphic descriptions of animal abuse and animal deaths, so I'd avoid reading this if that's something that upsets you.
I don't even know where to start with the characters. Most of them (namely Emerson and Sadie) were absolutely despicable people for whom I could conjure up almost no sympathy, but, just like the rest of the book, they were completely fascinating to read about. They're all extremely messed up, but this only made the book more interesting and a lot more creepy. Just don't go into this expecting to like or connect to any of the characters, because you probably won't. They're just either captivatingly horrible or completely pathetic, and I still can't decide if I loved or hated that part of the story.
IN CONCLUSION:
I still can't decide my exact thoughts on Delicate Monsters, but I do know that it's a story that's going to stick with me for a very long time. It's a darkly bizarre mystery, and even though I can't say I liked the story or the characters it was definitely compelling. Stephanie Kuehn's writing is brilliant, the atmosphere she created wonderfully eerie, and her characters fascinatingly despicable, but there was just something that didn't completely work for me.