THIS BOOK WAS PROVIDED TO ME FOR FREE IN EXCHANGE FOR AN HONEST REVIEW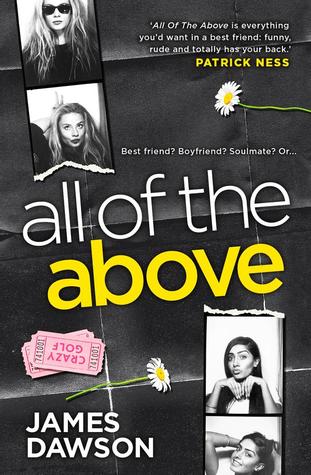 TITLE:
All of the above
AUTHOR:
James Dawson
PUBLISHER:
Hot key books
RELEASE DATE:
September 3rd 2015
PAGE COUNT:
319 pages
SOURCE:
E-ARC from netgalley
GOODREADS:
x
SYNOPSIS:
A funny and moving love story about friends, first loves and self-discovery by Queen of Teen 2014.
When sixteen-year-old Toria Bland arrives at her new school she needs to work out who her friends are in a crazy whirl of worry, exam pressure and anxiety over fitting in. Things start looking up when Toria meets the funny and foul-mouthed Polly, who's the coolest girl that Toria has ever seen. Polly and the rest of the 'alternative' kids take Toria under their wing. And that's when she meets the irresistible Nico Mancini, lead singer of a local band - and it's instalove at first sight! Toria likes Nico, Nico likes Toria, but then there's Polly ... love and friendship have a funny way of going round in circles.
MY THOUGHTS:
I'd never read a James Dawson book before this one (I know, I know, what have I been doing?), but everybody kept telling me how awesome he was, so when I saw All of the Above on netgalley I jumped at the chance to read it.
I'm so glad that I did!
Toria herself says that the story is a mess, and that's kind of true. There are so many different topics included that I did get a little bit overwhelmed or confused sometimes, but isn't that what life is like, really?
All of the above
is the kind of book that perfectly captures the highs and lows of being a teenager, and even though it was definitely flawed that just made it seem more authentic to me. Everything seemed really well researched (from the sixth form setting to discussions of self harm and eating disorders) and realistic, and it honestly surprised me how much of myself I saw in the story and the characters (although Toria's life is infinitely more exciting/eventful/interesting to read about than mine is).
Like I said, this was my first James Dawson book, and I really loved his writing style! It's really fast paced and quick to read, which meant I got through this story in just a few whirlwind hours, and I really felt like I was reading the thoughts of a teenage girl. There were quite a few times when I was literally laughing out loud, but I also thought he did really well at capturing the characters emotions when he needed to (trust me, it got emotional. Make sure to grab your tissues!).
There are quite a lot of characters in this book, which can sometimes be a problem, but I'm really happy to say that I thought they were all really unique and distinctive. There's a great mix of personalities (most of which were really well developed) and I thought the dynamics and relationships between the whole group were just so much fun to read about! Toria is one of the most relatable and compelling protagonists I've read about in a long time (She makes Harry Potter references! Of course I like her.) and even though some of her thoughts could seem kind of ridiculous I really did understand where she was coming from most of the time. All of the characters are realistically flawed, and that only made me love them more.
If I have anything to complain about, it would probably be the romance. It was cute, and I was really happy with how things turned out in the end romance-wise, but sometimes I just felt like the romantic relationships between some of the characters felt a little bit forced and rushed (it's possible this is just because I'm a bitter single person, but whatever...) I also wanted a little bit more development on some of the side plots and characters, but with so much going on in one book there was bound to be a few things that I wanted to see more of.
IN CONCLUSION:
All of the above is a slightly chaotic but brilliantly relatable roller coaster of a story, with snappy writing and characters I really connected to. It's almost equal parts hilarious and heartbreaking, and I thought there was a great mix of serious topics and pure fun.