THIS BOOK WAS PROVIDED TO ME FOR FREE IN EXCHANGE FOR AN HONEST REVIEW. THIS DOES NOT CHANGE MY OPINION IN ANY WAY.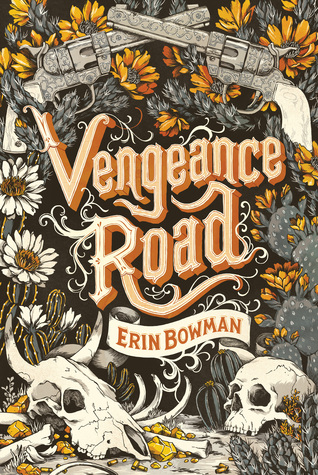 PUBLISHER:
HMH books for young readers
RELEASE DATE:
September 1st 2015
SOURCE:
E-Arc from netgalley
SYNOPSIS:
Revenge is worth its weight in gold.

When hers father is murdered for a journal revealing the location of a hidden gold mine, eighteen-year-old Kate Thompson disguises herself as a boy and takes to the gritty plains looking for answers—and justice. What she finds are untrustworthy strangers, endless dust and heat, and a surprising band of allies, among them a young Apache girl and a pair of stubborn brothers who refuse to quit riding in her shadow. But as Kate gets closer to the secrets about her family, a startling truth becomes clear: some men will stop at nothing to get their hands on gold, and Kate's quest for revenge may prove fatal.
MY THOUGHTS:
I've never been a western fan. Actually, I don't have much experience with them. I've never really watched any western movies, and I'm almost sure I've never read any western YA books. Frankly, I've never been interested, so I definitely wasn't expecting to enjoy this book as I did.
I thought the plot- about a girl who goes on a mission of vengeance when her father is killed- was really interesting, and although I know it's not unique within the western genre it was definitely unique to me. There were some good twists and turns (one of which nearly made me throw my phone), as well as some really brilliantly written and fast paced action scenes. There were a few times when I found it dragging, but I think this is mostly due to me reading it really slowly (I was super busy, and it ended up taking me nearly two weeks which did ruin my enjoyment of the book a little bit) and not because of the book itself. I obviously didn't mind reading it slowly too much though, because when I got to the end I didn't want it to stop!
I fell in love with Kate in the first five pages. She's a total badass, but she's also realistically frustrating and emotional which made her character seem so much more realistic. I didn't agree with all the decisions she made, not by a long shot, but it all made sense within the story and her motivations were really authentic. The two brothers were both lovable in their own ways, and I really enjoyed seeing them interact with Kate. The dynamics in that little group were just so much fun to read about!
Erin Bowman's writing is really fast paced and addictive, and I thought it worked really well for this story. The style is authentic to how people talked at the time (which did take a while for me to get into) and this mixed with some great, vivid descriptions of the setting made me really feel like I was there in the wild west. As I mentioned before, the fight scenes in this book were really well written and definitely kept me on the edge of my seat. I also loved that she didn't shy away from any of the grit or gore that came with the time period, and although it could be a little hard to read at times this made the story feel so much authentic.
Also, can we just take a minute to appreciate this cover? It's so beautiful and it fits the story so well and I'm kind of in love.
IN CONCLUSION:
Vengeance road is a unique and fast paced western novel, with brilliant writing (especially in the fight scenes) and characters you can't help but root for. I thought Erin Bowman did a brilliant job at capturing the feel and atmosphere of the wild west, and I enjoyed my time there so much more than I was expecting to!