THIS BOOK WAS SENT TO ME FOR FREE BY THE PUBLISHER IN EXCHANGE FOR AN HONEST REVIEW, THANK YOU! THIS DOES NOT EFFECT MY OPINION IN ANY WAY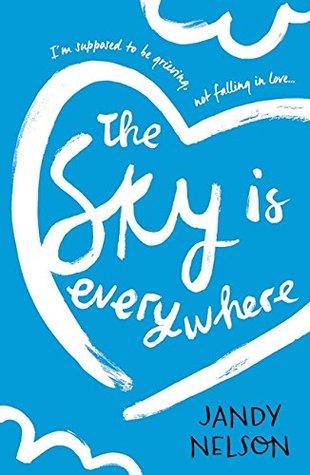 TITLE:
The sky is everywhere
RELEASE DATE:
February 5th 2015
SOURCE:
Physical book from publisher
SYNOPSIS:
For fans of John Green, David Levithan and Rainbow Rowell: a beautiful, funny and heartfelt novel about love and forgiveness. Seventeen-year-old Lennie Walker spends her time tucked safely and happily in the shadow of her fiery older sister, Bailey. But when Bailey dies abruptly, Lennie is catapulted to centre stage of her own life - and suddenly finds herself struggling to balance two boys. One boy takes Lennie out of her sorrow; the other comforts her in it. But the two can't collide without Lennie's world exploding...
MY THOUGHTS:
If you've read MY REVIEW of Jandy Nelson's I'll give you the sun, you'll know that I wasn't the biggest fan of it. There were some parts that I thought were really beautiful, but overall I was disappointed in the story and I just couldn't get into her writing style. When I picked up the sky is everywhere I was expecting to have the same experience, but I actually ended up really enjoying it.

My biggest problem with
I'll give you the sun
(yes, I'm going to compare the two books all way through this review) was the writing style. I just thought that Jandy Nelson seemed to be trying too hard to be poetic and beautiful but it just ended up seeming forced to me. On the other hand,
The sky is everywhere
was beautifully written without seeming over the top. There were a lot of vivid metaphors and creative similes, but in this book I thought they seemed a lot more natural. Actually, I really loved the writing style in this book!
The characters in this book are very unique, but I didn't feel like Jandy Nelson was trying TOO HARD to make them quirky. Lennie- whilst incredibly frustrating and undeniably flawed- was realistic and relatable, and I liked her for most of the time (just not when she was going on and on about which boy she should go out with). Both love interests were individual and likable in their own ways, and I REALLY loved reading about Lennie's family.
There was one thing I really didn't like about this book, and that was the romance. Oh god, I kind of hated the romance. I always (with a few very rare exceptions) hate love triangles, and this one was even more frustrating than normal. Lennie spent so much time just thinking about which guy she could get with, and after a while it just seemed like she was having the same thoughts over and over again which got really tedious. I also thought her relationship with Toby (who was her dead sisters boyfriend) was kind of strange and unhealthy, and it made me a little bit uncomfortable to read about.
The sky is everywhere has original poems scattered throughout the book, and I thought they were exceptionally beautiful and moving. All of the poems match up to what is happening in the story, and I really did feel like they added a lot to it. I thought it was a really original and effective addition and definitely made the book stand out from others I've read.
This book deals with the topic of loss and grief, and I think it did that really well. Lennie's reaction to and feelings about her sisters death seemed really authentic, and I got the impression the author either knew exactly how it felt to lose such a close family member or had done some very thorough research. Jandy Nelson is definitely great at getting emotions across, and there were a few times throughout the novel when I teared up (or cried hysterically).
IN CONCLUSION:
The sky is everywhere is a beautiful story of loss and love, with brilliant writing and some really moving poems scattered throughout. The main character is really frustrating at times and I kind of hated the romance story (sorry), but overall it was a really emotional book that I liked so much more than I expected too.