I RECEIVED A COPY OF THIS BOOK FOR FREE VIA. THE PUBLISHER, THANK YOU! THIS DOES NOT EFFECT MY OPINION IN ANY WAY.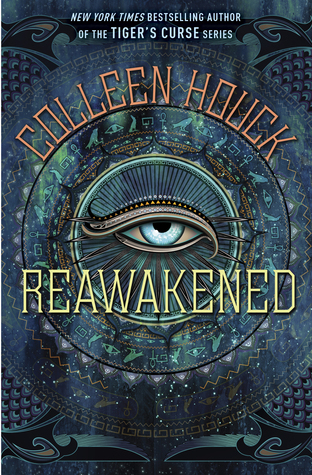 TITLE:
Reawakened
AUTHOR:
Colleen Houck
PUBLISHER:
Hodder
RELEASE DATE (UK):
August 13th 2015
SOURCE:
ARC from publisher
GOODREADS:
x
MY RATING:
4
/5
SYNOPSIS:
When seventeen-year-old Lilliana Young enters the Metropolitan Museum of Art one morning during spring break, the last thing she expects to find is a live Egyptian prince with godlike powers, who has been reawakened after a thousand years of mummification. 
And she
really
can't imagine being chosen to aid him in an epic quest that will lead them across the globe.
 
But fate has taken hold of Lily, and she, along with her sun prince, Amon, must travel to the Valley of the Kings, raise his brothers, and stop an evil, shape-shifting god named Seth from taking over the world. 


From
New York Times
bestselling author Colleen Houck comes an epic adventure about two star-crossed teens who must battle mythical forces and ancient curses on a journey with more twists and turns than the Nile itself.

MY THOUGHTS:
I've always heard good things about Colleen Houck's Tigers curse series, and although I've never read them I was very intrigued when I heard she was writing a book about Egyptian mythology. I don't know a lot (meaning, I don't really know anything) about Egyptian mythology but I do find it very interesting, so when I had the opportunity to review this book I knew I had to take it.
The story took me a while (maybe 100 pages) to get into, but once I did I found it really fun, fast paced and original. There were some points when the plot dragged, and others where too much was happening and it got a little bit muddled, but I enjoyed the plot and the pacing for the majority of the book. There were some things I noticed that didn't really make sense and would never happen in real life, so you might want to suspend your disbelief a little bit if you really want to enjoy this story. The writing's very fast paced and readable, which fit the story well, but I didn't necessarily think it stood out from other writing in YA.
The thing that most intrigued me about Reawakened was the mythology, and I'm happy to say that I really enjoyed that part of the story. I thought Colleen Houck did a good job at mixing the ancient mythology with the modern setting (think Percy Jackson, but...different) and it helped make the story stand out from other YA books. I also loved that a lot of the book was set in Egypt itself, I've never read a book set there before!
I'm still not totally sure what I thought of the characters. There were times when I thought Lilliana was strong and funny, but there were also times when she was really getting on my nerves (mostly when she went into in depth descriptions of how rich she was. We get the point). She did have some pretty impressive character development throughout the novel, though, and I'm excited to see how she changes further in later books. I did like her love interest and Anciet Egyptian Prince Amon, and it was interesting (and occasionally hilarious) to see him try and make his way in a world he was brand new to. Their romance didn't work for me at the start, and I thought it was going just a little bit too fast, but it developed through the book and I ended up really wanting them to be together.
IN CONCLUSION:
Reawakened is a fun and compelling first book in what I think is a very promising new series. It wasn't perfect my any means, but overall I really enjoyed the story and I'm looking forwards to the next book.