THIS BOOK WAS PROVIDED TO ME BY THE PUBLISHER VIA. NETGALLEY IN EXCHANGE FOR AN HONEST REVIEW, THANKYOU! THIS DOESN'T EFFECT MY OPINION IN ANY WAY.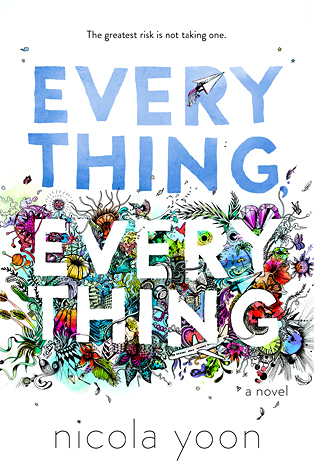 TITLE:
Everything, everything
AUTHOR:
Nicola Yoon
PUBLISHER (UK):
Penguin random house/ corgi childrens
RELEASE DATE (UK):
August 27th
SOURCE:
eARC from netgalley
GOODREADS:
x
MY RATING:
4.5/5
SYNOPSIS:
Madeline Whittier is allergic to the outside world. So allergic, in fact, that she has never left the house in all of her seventeen years. But when Olly moves in next door, and wants to talk to Maddie, tiny holes start to appear in the protective bubble her mother has built around her. Olly writes his IM address on a piece of paper, shows it at her window, and suddenly, a door opens. But does Maddie dare to step outside her comfort zone?
Everything, Everything
is about the thrill and heartbreak that happens when we break out of our shell to do crazy, sometimes death-defying things for love.
MY THOUGHTS:
If you look at a list of my favorite books and movies, you might notice a trend. I love romance stories with some kind of unique twist. I love books that will break my heart. I love coming of age novels about people stepping out of their comfort zones and discovering themselves. Everything, everything has all of these things. It also has a really pretty cover and some brilliant early reviews. Basically, it has everything I could ever want, and I knew I was going to love it.
I was right.
The story is about a girl who's basically stuck in her house, locked away from the world, which is something I've never read about before. I found Madeline's life to be really fascinating, and I was absolutely captivated by the entire story. I would say that the plot can be a little bit predictable- it was basically everything I expected from the synopsis and there were a few twists that I managed to guess- but overall I really loved the storyline.
Madeline was a pretty good main character. She could be a little bit frustrating at times (meaning, I was shouting "WHAT THE HELL ARE YOU DOING?" at the book), but that only made sense with the way she brought up and most of the time I found her to be a smart, funny and likable main character who I really sympathized with. She had some great character development throughout the novel, and I really enjoyed seeing her grow and change as the story went on. I also loved Olly as a character, and together their relationship was really sweet and really compelling.
But Everything, Everything isn't just a cute romance, of course. It has some great messages about finding yourself and making your own way in the world, as well as some really interesting information about a condition many people don't know about and some darker themes that I really don't want to spoil. It's definitely a book that tugged on my heartstrings, and whether I was crying sad tears or happy ones (I cried both. I'm an emotional person) Nicola Yoon always managed to have a massive emotional impact on me. I'm actually getting emotional again just writing this.
This is (I believe) Nicola Yoon's debut novel, but you'd never guess that from the quality of the writing. The writing style is really beautiful, and the use of lists and diagrams and stuff (which I couldn't see properly on my eARC, but I got the point) makes it a really fast paced and unique read. There were a few sentences in this book that just made me stop and read them again and stare into the distance because they were so beautifully written and powerful. I could go on, but I'll just say that I'll definitely be reading any books Nicola Yoon may publish in the future.
IN CONCLUSION:
Everything, everything is a beautiful and inspiring story, with brilliant writing and a romance I really got behind. Nicola Yoon did a fantastic job of making me feel all the feels, and the emotional impact the book had on me will stick with me for a long time to come. I only didn't give it five stars because it could be ever so slightly predictable and frustrating, but it came damn close to getting a perfect score. Definitely one of my favorite books of the year so far!