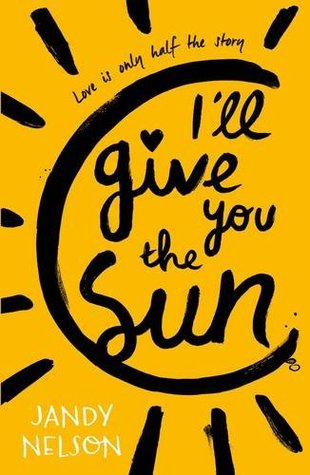 TITLE:
I'll give you the sun
AUTHOR:
Jandy Nelson
PUBLISHER:
Walker books
RELEASE DATE (UK):
April 2nd 2015
MY RATING:
3.5/5 stars
SYNOPSIS:
From the author of
The Sky Is Every­where
, a radiant novel that will leave you laughing and crying - all at once. For fans of John Green, Gayle Forman and Lauren Oliver. Jude and her twin Noah were incredibly close - until a tragedy drove them apart, and now they are barely speaking. Then Jude meets a cocky, broken, beautiful boy as well as a captivating new mentor, both of whom may just need her as much as she needs them. What the twins don't realize is that each of them has only half the story and if they can just find their way back to one another, they have a chance to remake their world.
MY THOUGHTS:
I'll say this right at the start; I didn't love 'I'll give you the sun'. I know I'm in the minority here, and I know this is a lot of people's all time favorite book, but I just didn't think it lived up to the hype. Don't get me wrong, it's definitely not a bad book, and I can understand why so many people love it. I just personally had a lot of issues with it.
The thing most people love about 'I'll give you the sun' is the writing style. I'd heard so much about how beautiful and poetic it was, but honestly I thought it was a little bit over the top. To me it seemed like Jandy Nelson was trying too hard to make her writing style unique and poetic, that made it seem quite forced at times. There were just too many metaphors and too much over the top imagery which seemed unnecessary, and I honestly think the story would have benefited from a simpler writing style. Of course, this is just personal taste and I'm sure many people would really appreciate Jandy's writing.
That being said, there were a few lines and paragraphs in this book where the writing totally blew me away. There are definitely moments that I thought were really powerful and emotional, and there were times (mostly near the end of the book) when I was really loving the story. It's just a shame that the whole book wasn't like this, and that whilst sometimes the writing was incredibly effective and beautiful it didn't work for me overall.
My thoughts on the characters were similar to the thoughts I had on the writing style; I felt like Jandy Nelson was trying too hard to make them quirky and unique, and this made them seem unrealistic to me. I did think the characters were complex and interesting to read about, however, and they were definitely different to other characters I'd read about before. My favorite character (and the only one I really genuinely cared about) was Noah. Noah is adorable.
The story itself was intriguing, but for the most part I found it very slow. It took me a really long time to get into this books, and for the first 150 pages or so I was actually considering putting it down, but once I did get into it I was interested to see what would happen. There were parts when I found myself losing interest, but I enjoyed the story overall. I think it was the writing style that made this book seem slow to me instead of the plot, but if you don't like slow paced books this might not be the one for you.
As you can probably tell by now, my thoughts on this book were mixed and kind of confusing. I don't even know if this review made any sense. There were bits that I loved and bits that I didn't like. Characters that I loved and characters that I didn't like. Writing that I loved and writing that I didn't like. Because of this I have no idea how to rate it- sometimes I wanted to give it five stars and sometimes I wanted to give it none- so I'm going to settle on a middle rating. I'm sure this is a case of "it's not you it's me", so I still recommend you pick this book up if it interests you.