THIS BOOK WAS PROVIDED TO ME BY THE PUBLISHER IN EXCHANGE FOR AN HONEST REVIEW, THANK YOU! THIS DOES NOT EFFECT MY OPINION IN ANY WAY.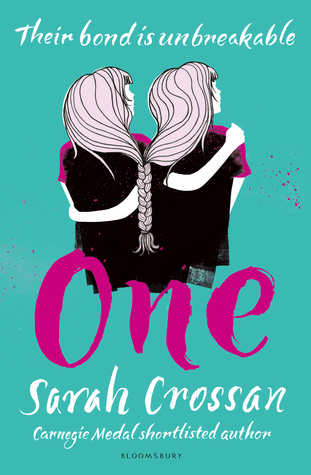 TITLE:
One
AUTHOR:
Sarah Crossan
PUBLISHER:
Bloomsbury childrens
RELEASE DATE (UK):
August 26th 2015
MY RATING:
4.75/5
SYNOPSIS:
Grace and Tippi are twins – conjoined twins.
And their lives are about to change.
No longer able to afford homeschooling, they must venture into the world – a world of stares, sneers and cruelty. Will they find more than that at school? Can they find real friends? And what about love?
But what neither Grace or Tippi realises is that a heart-wrenching decision lies ahead. A decision that could tear them apart. One that will change their lives even more than they ever imagined…
From Carnegie Medal shortlisted author Sarah Crossan, this moving and beautifully crafted novel about identity, sisterhood and love ultimately asks one question: what does it mean to want and have a soulmate?
MY THOUGHTS:
I've been putting off reviewing this book, just because I know there's no way I can do it justice. I don't have the words to express how beautiful and moving this book is. I'll try, but really you just need to read this book.
Sarah Crossan has one of the most beautiful writing styles I have ever read (in this book, anyway. I haven't read any of her others). The book is told in free verse, which isn't something I normally read and wasn't totally sure about before I started, but I thought that it worked perfectly for the story. Every sentence in this book is poetic and powerful, and there isn't a single word that doesn't have an impact. Somehow Sarah made even paragraphs of medical descriptions and mundane conversations sound beautifully eloquent. I have now idea how she did it. Basically, if you like poetry or general beautiful writing you NEED this book in your life.
I've never read a book about conjoined twins before. I don't think I've ever even heard of a YA book about conjoined twins before. It's completely fascinating reading about how people in that situation might feel, and I thought it made such an interesting and unique story. Sarah Crossan did a great job at mixing just the right amount of emotion, romance, family drama and friendship to make a really compelling and heart wrenching story, and overall I really enjoyed the plot premise and the plot of this book.
I liked both Tippi and Grace as characters, and I don't think I could pick a favorite if you forced me to. They both felt realistic and relatable to me, and I really appreciated that they weren't defined at all by their condition. My only problem with the characters was that I thought they could have been more separate from each other as I sometimes thought their personalities were a little bit too similar, but I guess that makes since seeing as they spend literally all their time together. I also enjoyed pretty much every side character. Each one of them was unique and interesting, I just wished that I got to find out more about some of the characters that weren't Grace and Tippi.
Honestly, my only real problem with this book was that I wanted more of it. I think that tells you everything you need to know about how much I loved it. The free verse style means that it's a very fast read (I read the whole thing in one sitting), and because of this I thought certain elements of the story were kind of glossed over when I wanted to know more about them. However, I think this might be more of a personal thing because I'm not really used to reading this style of book.
I have to warn you, One will tear your heart to shreds. In the most beautiful way possible, of course. Sarah Crossan did a great job at really tugging on my heartstrings, and all of the emotion in this book felt very authentic and realistic. I can't say much without spoiling things, but buy tissues before you buy this book (which you totally should do when it comes out in August!). Buy LOTS of tissues. And make sure you're not going out in public for at least a few hours after you finish reading. Like I've said before, however, I really love books that make me feel things so this was a perfect story for me!
IN CONCLUSION:
One is a beautifully written, unique and incredibly moving story of love, family and growing up in extraordinary circumstances. There were just a couple of small problems that prevented it from being a five star book for me, but it was really damn close. I can't even express how beautiful and powerful this book is, all I can say is that I highly recommend you pick it up when it's published in August!