THIS BOOK WAS PROVIDED TO ME IN EXCHANGE FOR AN HONEST REVIEW, THANK YOU! THIS DOES NOT EFFECT MY OPINION IN ANY WAY.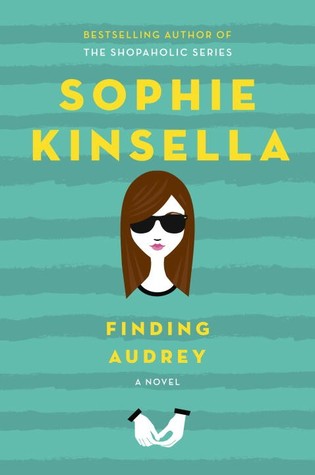 TITLE:
Finding Audrey
AUTHOR:
Sophie Kinsella
PUBLISHER:
Penguin Random House childrens/Doubleday childrens
RELEASE DATE (UK):
June 4th 2015 - OUT NOW
PAGE COUNT:
288
GOODREADS:
x
MY RATING:
4
.25/5
SYNOPSIS:
Audrey can't leave the house. she can't even take off her dark glasses inside the house.
Then her brother's friend Linus stumbles into her life. With his friendly, orange-slice smile and his funny notes, he starts to entice Audrey out again - well, Starbucks is a start.And with Linus at her side, Audrey feels like she can do the things she'd thought were too scary. Suddenly, finding her way back to the real world seems achievable.
Be prepared to laugh, dream and hope with Audrey as she learns that even when you feel like you have lost yourself, love can still find you . . .
MY THOUGHTS:
I've been hearing great things about Sophie Kinsella's adult books for years, but even though she is so popular and everyone says she's amazing, I didn't think I was going to enjoy this book. Don't ask me why, I just convinced myself I wasn't interested.
It turns out I was totally wrong, and I enjoyed Sophie's writing just as much as everybody else does. The moral of the story here: don't judge books before you read them.
I'd never actually read a book about a character with anxiety, definitely not to the extent that Audrey has it, but I thought it was a really interesting aspect of the book. I don't have any first hand experience of the topic so I can't really say if it was a realistic depiction or not, but I personally thought Sophie Kinsella handled the issue really well. I think it's great that she wrote about a topic that isn't seen a lot in YA books but effects many people in real life, and I really hope that this book can bring some exposure to the issue and maybe help some young people who are going through similar things to Audrey.
Despite the serious topic at the heart of this book, it made me laugh out loud multiple times. Sophie Kinsella is known for her humor and that definitely came through in Finding Audrey. I thought there was a good balance of serious bits and funny bits and I never thought the humor felt out of place or unnecessary.
Audrey was a really interesting main character, and I really enjoyed reading from her POV. It was so great to see her progress throughout the book, and I don't think I would have been so invested in her recovery if she wasn't so realistic and relatable. Her family were fun to read about, but I thought they all seemed a little bit one dimensional and stereotypical. I understand, and appreciate, that the book was really about Audrey but I would have liked to see the other members of her family get a little bit more development. That being said, her brother Frank was probably my favorite character in the book; he was sassy and nerdy so obviously I could relate to him. I liked Linus, the love interest, but sometimes the way he treated Audrey and her illness really frustrated me. Never the less, their relationship was really sweet and heartwarming for the majority of the time.
I found this book to be really inspirational and by the end it made me feel really happy and fuzzy inside. It was so empowering to go on Audrey's journey along with her, and every time she achieved anything I felt a legitimate sense of pride. I got really emotional at the end of the book because I was so happy and proud of a fictional character, and I think that's a sign that Sophie Kinsella did something really right in this book. Finding Audrey definitely has it's share of heartbreaking and hard to read moments, but you're almost certainly going to finish it in a better mood than you started in.
IN CONCLUSION:
Finding Audrey was a really fast and fun read, but it dealt with a serious topic that I don't see often in YA fiction. It has a great main character and a sweet romance, and there were a few moments that genuinely made me laugh out loud. I'd recommend it to anyone, especially if they're going through similar things to Audrey.