ROGUE IS THE SECOND BOOK IN THE TALON SERIES. THIS REVIEW CONTAINS SPOILERS FOR THE FIRST BOOK. PROCEED WITH CAUTION!
YOU CAN READ MY SPOILER FREE REVIEW OF TALON, THE FIRST BOOK IN THE SERIES, HERE.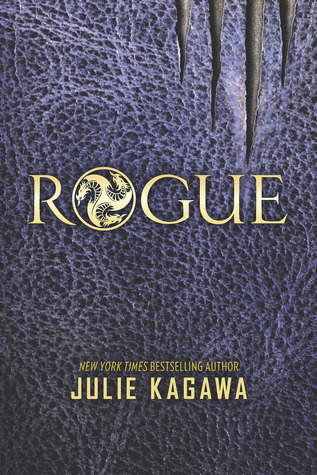 INFO:
AUTHOR:
Julie Kagawa
SERIES:
Talon, book 2
RELEASE DATE:
April
28th 2015
PUBLISHER:
Harlequin teen
SYNOPSIS:
Ember Hill left the dragon organization Talon to take her chances with rebel dragon Cobalt and his crew of rogues. But Ember can't forget the sacrifice made for her by the human boy who could have killed her—Garret Xavier Sebastian, a soldier of the dragonslaying Order of St. George, the boy who saved her from a Talon assassin, knowing that by doing so, he'd signed his own death warrant.
Determined to save Garret from execution, Ember must convince Cobalt to help her break into the Order's headquarters. With assassins after them and Ember's own brother helping Talon with the hunt, the rogues find an unexpected ally in Garret and a new perspective on the underground battle between Talon and St. George.
A reckoning is brewing and the secrets hidden by both sides are shocking and deadly. Soon Ember must decide: Should she retreat to fight another day…or start an all-out war?
MY THOUGHTS:
Julie Kagawa has done it again! If you've read my review of Talon (which you should probably do, because I'm probably going to keep referencing it throughout this post) you'll know that I absolutely adore her as a writer and I've loved all of her books, and Rogue was no exception.
Most of my opinions on this book are the same as what I said in my
Talon
review, so I'll try not to repeat myself too much.
Once again, the plot was action packed and exciting and there were enough plot twists to always keep me on the edge of my seat. The first book spent a lot of time setting up the world and establishing the characters, but this installment was fully focused on the plot and the action which was something that I really enjoyed. Just like in
Talon
(and pretty much every Julie Kagawa book ever) Rogue ended on a horrible cliffhanger which left me aching for the next book.
My thoughts on the characters haven't really changed, although they definitely all grew and developed over the course of the book. I still enjoy Ember as a protagonist and I thought she really held her own in this book when she could have just let the boys save her. Garret is still my favorite character, my only complaint is that there wasn't enough of him! I thought Riley was a really interesting character to read about and I loved finding out more about his past; he definitely won me over in this book even though I wasn't a huge fan of him in
Talon.
Overall the characters in this series are all intriguing and individual, and there were some new characters in this installment who were...interesting, to say the least.
Just like I said in my review of Talon, my main problem with this book was the love triangle. Maybe it's just me and my hatred for most love triangles in existence but it really did get on my nerves, especially because I already know for sure which guy I want Ember to end up with (Garret. Definitely Garret) so any time the other guy showed any interest in her it just made me angry. Luckily the romantic elements of the book didn't overwhelm the story, but it was definitely something I could do without.
Rogue contains more different points of view than Talon does, and at times I struggled to tell which character was narrating the story. Despite the occasional confusion, I think the multiple POV is great for showing every aspect of the story and there was no character whose perspective I didn't enjoy reading from.
IN CONCLUSION:
Rogue was a brilliant, action packed follow up to Talon and I enjoyed it even more than the first book. The love triangle pissed me off and the multiple POVs could be confusing at times, but overall I really did love this book.