THIS BOOK WAS PROVIDED TO ME BY THE PUBLISHER VIA NETGALLEY, THANKYOU! THIS DOES NOT EFFECT MY OPINION IN ANY WAY.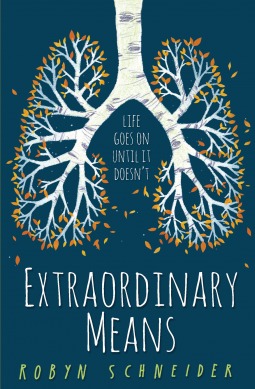 TITLE:
Extraordinary means
AUTHOR:
Robyn Schneider
PUBLISHER:
Simon & Schuster
RELEASE DATE (UK):
June 4th 2015
PAGES:
336
GOODREADS:
X
MY RATING:
4.5/5
SYNOPSIS:
John Green's
The Fault in Our Stars
meets Rainbow Rowell's
Eleanor & Park
in this darkly funny novel from the critically acclaimed author of
The Beginning of Everything
.
Up until his diagnosis, Lane lived a fairly predictable life. But when he finds himself at a tuberculosis sanatorium called Latham House, he discovers an insular world with paradoxical rules, med sensors, and an eccentric yet utterly compelling confidante named Sadie—and life as Lane knows it will never be the same.
Robyn Schneider's
Extraordinary Means
is a heart-wrenching yet ultimately hopeful story about the miracles of first love and second chances.
MY THOUGHTS:
Extraordinary means was one of my most anticipated reads of the year; the cover is gorgeous, it was being compared to some of my all-time favorite books, and I really enjoyed Robyn Schneider's debut The beginning of everything when I read it last year. Basically, everything about it made it seem like a book I would love, and I am happy to say I was not disappointed!
The book is told from the POV of both Sadie and Lane, and I really enjoyed both of their voices. As with most books told in multiple perspectives, I occasionally got confused and had to look back to the start of the chapter to check who was actually narrating, although for the most part I thought the two voices were distinct and interesting to read. I ended up really liking and connecting to both Lane and Sadie as characters.
The characters as a whole were a huge strong point for me in this book. Lane and Sadie's group of friends were diverse and interesting, and I really enjoyed reading about their friendship and the way they interacted with each other. By the end of the book I had grown attached to all of the characters and that made things that happened near the end of the book effect me so much more.
I'm not always a huge fan of romance-centered
books, but I did like the relationship between Lane and Sadie. They had some really sweet moments and their relationship progressed realistically instead of going way too fast.
Extraordinary means
is being compared a lot to
The fault in our stars
by John Green
,
and even though I'm not normally a big fan of comparing books I have to admit that in this case the resemblance is undeniable. My biggest problem with this book was that I felt Robyn Scheider was trying too hard to write a book similar in style to John Green's and sometimes it could feel a little bit forced. However, I am a massive fan of The fault in our stars and John Green's writing in general so the similarities didn't bother me too much. I know lot of people have had enough of the 'sick lit' genre in YA and, although Extraordinary means does put a fresh spin of it and follows characters with an illness I've never read about before, I probably wouldn't recommend this book to you if you're one of them.
One thing I really enjoyed about this book was the setting. I'm a sucker for anything set in a boarding school (probably due to my childhood obsession with Enid Blyton's Malorie Towers series), and although Latham house isn't your conventional boarding school it definitely has the same feel.
I must warn you: Extraordinary means is definitely a book that plays with your feelings. Personally I thought Robyn Schneider did this really effectively and dealt with the deeper themes of the novel in a sensitive and thoughtful way, and as someone who likes heart wrenching books I appreciated the emotional aspects of the story. If you're like me and cry really easily at books you are DEFINITELY going to need your tissues for this one.
IN CONCLUSION:
Extraordinary means is a powerful and beautiful story, with compelling characters and a romance you'll totally root for. I definitely recommend it to anybody who likes YA contemporary and isn't yet sick (no pun intended) of this kind of story.