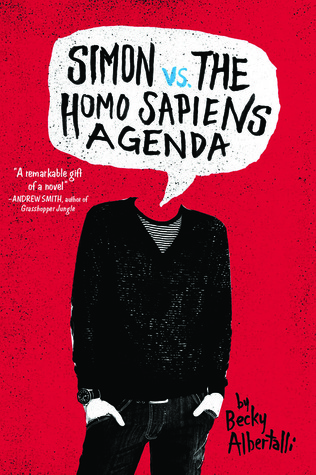 BOOK INFO:
TITLE:
Simon vs the Homo Sapiens Agenda
RELEASE DATE
:
April 7th (TODAY)
PUBLISHER:
Balzer + Bray
PAGE COUNT:
320
GOODREADS:
X
NOTE: Despite the fact that I read this book before the official release date, I was not sent it for review. I actually found it in my local Waterstones a few days before the release date.
SYNOPSIS:
Sixteen-year-old and not-so-openly gay Simon Spier prefers to save his drama for the school musical. But when an email falls into the wrong hands, his secret is at risk of being thrust into the spotlight. Now Simon is actually being blackmailed: if he doesn't play wingman for class clown Martin, his sexual identity will become everyone's business. Worse, the privacy of Blue, the pen name of the boy he's been emailing, will be compromised.
With some messy dynamics emerging in his once tight-knit group of friends, and his email correspondence with Blue growing more flirtatious every day, Simon's junior year has suddenly gotten all kinds of complicated. Now, change-averse Simon has to find a way to step out of his comfort zone before he's pushed out—without alienating his friends, compromising himself, or fumbling a shot at happiness with the most confusing, adorable guy he's never met.
MY THOUGHTS:
If you've read any of my recent 'anticipated books' posts, you'll know that I was really looking forward to this book. I thought the synopsis sounded really cute, and it reminded me a lot of something David Levithan (one of my all time favorite authors) might write. Then I started seeing reviews posted online, all of which were overwhelmingly positive. I had really high expectations, and I was worried that they weren't going to be met.
I shouldn't have worried. I love this book. BELIEVE THE HYPE, Y'ALL. (This is going to be kind of an over-enthusiastic and gushy review. Sorry?)
Simon was a great character. I want to be his best friend. He was funny and sarcastic and relatable, and I really enjoyed reading from his POV. I really enjoyed reading about pretty much every other character in this book, too. All of Simon's friends were individual and realistic, and I ended up feeling connected to all of them in different ways. Blue, even though we don't see a lot of him apart from in the emails, was totally adorable and I shipped him and Simon SO MUCH! (more on that in a minute). I particularly loved Simon's family, they were just hilarious. I did think that sometimes Simon's family sometimes seemed unrealistically awesome, but maybe that's just because my own parents aren't anywhere near as fun.
Let's talk about Blue and Simon. They were the cutest. Even thought they don't interact in person much until the end of the book, the emails they sent to each other totally showed the growth of their relationship and I wanted them to be together long before either of them knew who the other was. It was really fun to try and guess who Blue was, even though I did figure it out quite a while before Simon was and I almost started yelling at the book in public. I wouldn't say that Blue's identity is very surprising, but I was really pleased with who he turned out to be. When they did finally 'meet' for real...well you'll have to find out for yourself.
Simon vs the homo sapiens agenda made me laugh out loud a couple of times (quiet a lot of times, actually. I was at a safari park and I think the lions were judging me for laughing at a book.), but it also dealt with some really important issues that I don't think are discussed often enough in YA. I'm straight, so I've never been through the things Simon and Blue are going through, but somehow Becky Albertalli made me relate so much to what was going on and it left quite a significant impact on me. The 'issues' in this book are approached in a really light hearted and approachable way, so I think it would be a great one for people who might need some insight on the topic (ie. all the homophobic douchebags at my school) to read.
The story itself is fun and intriguing, and I was never bored whilst I was reading this book. In fact, I read it all in one trip to the safari park (including a thirty minute drive either way). If you need something really fast and cute with some deeper messages I think this would be a great book to pick up! The writing style is
appropriately sarcastic and fast paced, and I really did feel like I was reading something from the mind of a teenage boy and not a grown woman.
IN CONCLUSION:
I loved this book! Simon vs the homo sapiens agenda is heart warming and insightful, with a totally adorable relationship and relatable characters. There's a lot of hype about it right now, but I think it's totally well deserved!