*THIS BOOK WAS SENT TO ME BY THE PUBLISHER VIA NETGALLEY, THANKYOU! THIS DOESN'T AFFECT MY OPINION IN ANY WAY*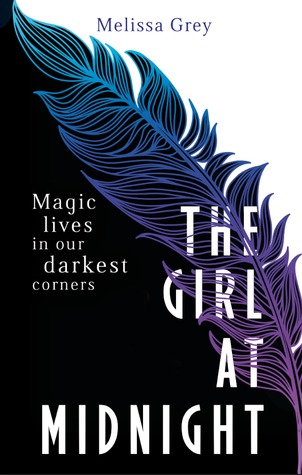 BOOK INFO:
TITLE:
The girl at midnight
RELEASE DATE
:
April 28th 2015
PUBLISHER:
Little, Brown UK
SYNOPSIS:
Beneath the streets of New York City live the Avicen, an ancient race of people with feathers for hair and magic running through their veins. Age-old enchantments keep them hidden from humans. All but one. Echo is a runaway pickpocket who survives by selling stolen treasures on the black market, and the Avicen are the only family she's ever known.
Echo is clever and daring, and at times she can be brash, but above all else she's fiercely loyal. So when a centuries-old war crests on the borders of her home, she decides it's time to act.
Legend has it that there is a way to end the conflict once and for all: find the Firebird, a mythical entity believed to possess power the likes of which the world has never seen. It will be no easy task, but if life as a thief has taught Echo anything, it's how to hunt down what she wants . . . and how to take it.
But some jobs aren't as straightforward as they seem. And this one might just set the world on fire.
MY THOUGHTS:
The girl at midnight is exactly the kind of book I love. It's an urban fantasy with a very original world, sassy characters and a fun, fast paced style. I saw in the netgalley synopsis that it was being called The mortal instruments meets Shadow and bone, and I think that's a pretty decent description. If you like either of those series, you're going to love this.
First things first, the story. There are bird people (the avicen), there are dragon people, there's a magical world hidden in plain sight and an ancient war that humans don't have a clue about. The story of two warring species definitely isn't new, and neither is the idea that our world isn't exactly what it seems, but something about the way this book was written made me feel like I'd never read those two concepts before. No matter how many YA fantasy series it's inevitably going to be compared to, the girl at midnight felt original and unique.
For the first two thirds of the book I felt like the plot was just building up, and because of this it was sometimes a little bit slow and occasionally tedious. Luckily the characters, the writing, and the new world we were introduced to were enough to keep me interested and it was all worth it by the ending, which was exciting and action packed even if I did guess one of the plot twists. The ending totally set the stakes for the further books in the series, which I'm sure are going to be really action packed and fast paced now that the world has been set up.
I really liked the characters in this book; I thought every one of them was unique and interesting, even characters who weren't in it much. Echo, our protagonist, is strong and tough but she also had realistic emotions and weaknesses that made her much more relatable and authentic. The side characters ranged from hilariously sassy to deliciously evil, and I enjoyed reading about all of them.
The writing style is eloquent and beautiful to read, but it also had just enough humor to make me laugh out loud a couple of times. I know I said this book was original and shouldn't really be compared to anything else, but the writing style did remind me of Cassandra Clare's at some points in the book. I love Cassandra Clare, so that definitely wasn't a bad thing. I thought Melissa Grey did a great job at creating a magical atmosphere that really sucked me into the story and made me feel like I was part of the world she was describing.
There were a couple in this book who really reminded me of Magnus and Alec from the Mortal Instruments (sorry for all these Cassandra Clare comparisons, I swear it's not a rip off of her books), who are my number one OTP of all time. That means that this couple was totally adorable, and I loved reading them. Unfortunately I wasn't such a huge fan of the main romance between Echo and Caius. They were cute, but I did feel like their relationship kind of came out of nowhere and it took up more of the story than I would've preferred it to. There were hints of a love triangle for some of the book, but it wasn't a massive thing that really got on my nerves.
IN CONCLUSION:
The girl at midnight is a magical and original first book in a very promising new fantasy series. I fell in love with the world and characters, and I can't wait to see where the story goes from here.