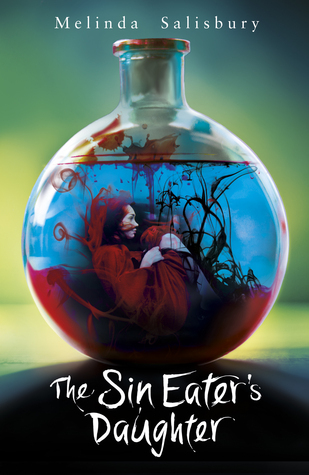 TITLE:
The Sin Eater's Daughter
AUTHOR:
Melinda Salisbury
RELEASE DATE
:
March 1st 2015
PUBLISHER:
Scholastic press
I kill with a single touch.
Twylla is blessed. The Gods have chosen her to marry a prince, and rule the kingdom. But the favour of the Gods has it's price. A deadly poison infuses her skin. Those who anger the queen must die under Twylla's fatal touch.
Only Lief, an outspoken new guard, can see past Twylla's chilling role to the girls she truly is.
Yet in a court as dangerous and the queen's, some truths should not be told...
MY THOUGHTS:
I'd heard so many good things about 'the sin eater's daughter', SO MANY, but for some reason I wasn't sure I'd enjoy it. I'm not the best person at reading fantasy (meaning; I get confused easily and can't pronounce any names.), and it sounded a lot like 'poison study' which I wasn't a huge fan of.
Melinda Salisbury's writing was so pretty and poetic that I probably could have just read a whole book of her talking about nothing. She created the atmosphere of the story so well and I could just feel myself getting lost in her writing. Furthermore, I thought she managed to describe the settings so well and mad me able to picture everything in my head without using pages and pages of boring descriptions.
What there was pages and pages of, however, was info dumping. Especially at the start of the book there was a lot of world building and explanations that were given all at once and I think the author could have found a way to spread it out more and make it flow better with the story. That being said, the information that was being dumped was really interesting and relevant to the story, so I really didn't mind it very much.
I enjoyed the world building in this book; it never seemed too over complicated or confusing and I felt like I learnt a lot about the world and it's history. The world wasn't massively unique compared to other fantasy books I've read, but there were so many other aspects of the story that were.
I also really enjoyed the characters in this book (or disliked, where appropriate). Twylla wasn't always likable, but that worked well for the story. She was naive and obediant at the start of the book, but that made sense with how she was brought up and it was great to see her grow over the course of the book. I'm sure her character's going to do some awesome developing in the future of this series. I liked that she didn't immediately accept all of the new information she learnt without freaking out first; it just never makes sense when characters are totally cool with their worlds being turned upside down. She had emotions, and flaws, and Ioved that. Lief and Merek, the two love interests (yes, there's a love triangle and no, I actually didn't hate it!), reminded me a lot of Chaol and Dorian in 'Throne of Glass', which isn't a bad thing at all. They were both really flawed and really interesting to read about.
The pacing was slow for the majority of the book, which isn't something I necessarily see as a negative thing. It just gave time for the world and the characters to be established before everything went crazy, but I will say that if you like really fast paced, action packed stories this might not be the one for you. However, when we got to the end of the book things went crazy and I was totally on the edge of my seat for the last fifty pages. There was one plot twist in here that I saw coming, and one that I actually gasped at. The ending killed my heart. That's all I'm saying.
IN CONCLUSION:
Overall, 'the sin eaters daughter' was a unique and beautifully written fantasy book. The pacing was a little bit slow, but it was made up for by an interesting world and compelling characters. I can't wait for the next book!