*THIS BOOK WAS PROVIDED TO ME BY THE PUBLISHER VIA NETGALLEY, THANKYOU! THIS DOESN'T AFFECT MY OPINION IN ANY WAY*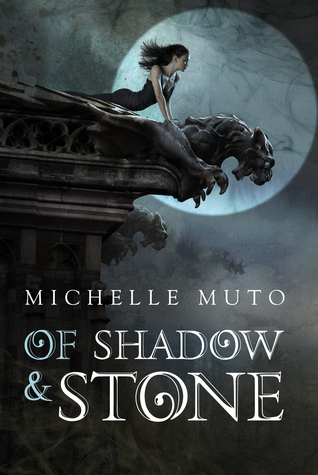 BOOK INFO:
TITLE:
Of shadow and stone
RELEASE DATE
:
February 24th 2015
SYNOPSIS:
Gargoyles were created centuries ago to protect mankind, but something went horribly wrong. Now only the sentinel—a mortal chosen to control the stone beasts—stands between them and their human prey.
When the latest sentinel is killed, Kate Mercer is destined to take his place. But Kate has enough going on in her life—like a skyrocketing film career, a delusional ex-boyfriend, and a crazed stalker who will stop at nothing to get to her. But the powers that be have decided, and Kate is transported to Shadow Wood, a mysterious castle that serves as a sanctuary for the supernatural. Although beautiful, Shadow Wood is no safe place for a mere mortal. Yet Kate is drawn not only to the gargoyles but also to Ian McGuire, a charming novelist who might be in the greatest danger of all.
As Kate decides whether to accept the most perilous role of her life, she discovers there are more secrets than answers within the castle's walls. Her survival and Ian's depend on her ability to master the gargoyles before time runs out. Is fate really cast in stone?
MY THOUGHTS:
First things first, this book isn't YA (I only say this because it is listed as such on netgalley and the majority of the books I talk about on this blog are YA novels). It's not inappropriate for teen audiences
,
and it didn't ruin my enjoyment of the book, but I thought I'd just point this out.
'Of shadow and stone' started off well; there's a prologue that really gained my interest (it has a different writing style to the rest of the book, which worked well for the first few pages), and the story idea is very intriguing. Unfortunately, it took far too long to get into the story and I found the first 75 percent of the book very slow and kind of boring. There just wasn't anything happening! It actually took me two weeks to read this book, just because I couldn't get into it and I had no motivation to read. The plot had so much potential (sanctuary for the supernatural? Cool! Being able to control gargoyles? Sounds awesome!), but I really didn't think it was realized.
I did really like the setting. Shadow Wood as a place was intriguing and creepy, I just wished that we could have heard more about it and less about what was going on in the 'real world'. Moreover, I thought Michelle Muto did a good job of creating the atmosphere and making Shadow Wood feel authentic and mysterious.
The writing was pretty good as a whole. It had just the right amount of humor for the story, and read pretty fluidly and easily. I liked that the book included the point of view of multiple characters, including a psycho stalker guy which was really interesting to read about, and every character seemed unique and realistic. The main characters, Ian and Kate, were both interesting enough and I enjoyed reading about them, but they weren't really anything special. One kind of random thing I really enjoyed about this book was that both the main characters had interesting careers- Kate is a famous actress and Ian is a writer- and I liked seeing how that affected their lives. However, I felt like a lot of the novel focused on Kate's career and life as a celebrity instead of the paranormal story that was going on (which was what I really wanted to read about).
My favorite part of the book was the climax in the last 20%. It was thrilling and shocking and totally had me on the edge of my seat. It's just such a shame that it took so long to get to that point and for the rest of the novel the story didn't really go anywhere.
OVERALL:
'Of shadow and stone' had a lot of potential, but unfortunately I was disappointed. I liked the writing and the characters, but the story was really slow and it took me a really long time to get into.