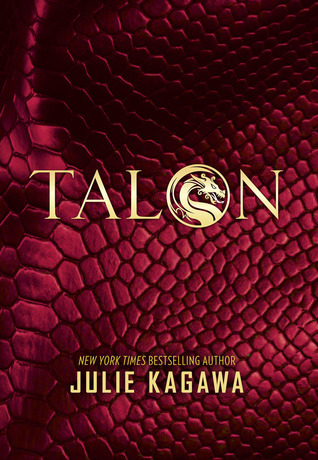 AUTHOR:

Julie Kagawa
SERIES:
Talon, book 1
RELEASE DATE:
October 28th 2015
PUBLISHER:
Harlequin teen
Long ago, dragons were hunted to near extinction by the Order of St. George, a legendary society of dragon slayers. Hiding in human form and growing their numbers in secret, the dragons of Talon have become strong and cunning, and they're positioned to take over the world with humans none the wiser.
Ember and Dante Hill are the only sister and brother known to dragonkind. Trained to infiltrate society, Ember wants to live the teen experience and enjoy a summer of freedom before taking her destined place in Talon. But destiny is a matter of perspective, and a rogue dragon will soon challenge everything Ember has been taught. As Ember struggles to accept her future, she and her brother are hunted by the Order of St. George.
Soldier Garret Xavier Sebastian has a mission to seek and destroy all dragons, and Talon's newest recruits in particular. But he cannot kill unless he is certain he has found his prey: and nothing is certain about Ember Hill. Faced with Ember's bravery, confidence and all-too-human desires, Garret begins to question everything that the Order has ingrained in him: and what he might be willing to give up to find the truth about dragons.
MY THOUGHTS
Julie Kagawa is one of my all time favorite authors. Let's be honest, I would read her shopping list if she published it. (what does she buy? writing talent? great characters? the magical ability to make me sob with every single book she writes?) That meant I had really high expectations for this book, and I'm glad to say it totally met them.
I really loved the concept of this book: it has dragons, and secret societies, and action, and mystery, and basically that's all I really want in a book. The plot was fast paced and intriguing, and I was desperate to find out what was really going on inside Talon and what would happen to the characters. There were just enough plot twists and action scenes, especially near the end, to keep you on the edge of your seat, but not so many that it got overwhelming.
I must warn you all, this book- like every other Julie Kagawa book I've ever read, actually -ends on a killer cliffhanger and will totally rip your heart out. I wasn't joking when I said I'd cried at every book she'd written. The woman is totally evil.
Ember was a pretty good main character; I found her to be realistic and sassy, but sometimes she got on my nerves a little bit. I'm excited to see how her character grows through the coming books (there's going to be four more in this series, according to goodreads. Ahh!).
Garret was my favorite character. I'm already kind of in love with him. He was strong and brave and determined, but I loved seeing the softer, more fun side that Ember brought out in him. Their relationship as a whole was really adorable and didn't take away from the story at all. I ship it! (What shall we call them? Gamber? Emret? Emberret? I don't know.)
I wasn't a massive fan of Dante; I thought he was too stubborn and I just wish he'd been there more for Ember. The ending just made me more skeptical of his character, and I really hope he makes the right decisions in the following books.
Riley was an interesting character, and I loved the descriptions of him and Ember in dragon form. I can't decide how I feel about him at the moment.
Another thing I loved about this book was the setting. Now I just want to live on the beach and go surfing all the time. Dammit.
Of course, it wasn't all perfect.
My main problem with this book was the love triangle. I'm just so over them now, and I loved Ember and Garret together so much that whenever Riley showed an interest in her I got really pissed off. Luckily it wasn't a huge part of the book but it did get on my nerves.
Talon is told in multiple points of view and whilst I liked that this allowed us to see more of the story and hear different characters perspectives, I felt that the voices all sounded very similar and sometimes I wasn't sure who's perspective we were in. Maybe third person would have worked better?
It did take me a little while to get into this book. I was really tired and cranky when i started it, though, so that might be why. There's a lot of build up and explanations in the first two thirds of the book, but that didn't really bother me. It just built the bases for all the action and awesomeness that I'm sure is going to happen in the coming books. This is shaping up to be a really epic series!
IN CONCLUSION
Talon is a really fun and intriguing book, with mostly likable characters and I romance I actually really enjoyed reading about. It definitely feels more like a buildup to the rest of the series than it does a full story but I think the books are only going to get better from here. I need them. Now.
4.5/5 STARS