*I received this ebook for free from netgalley in exchange for an honest review, however that does not effect my opinion!*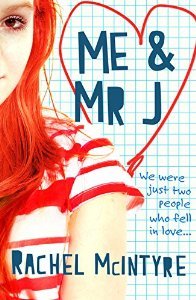 AUTHOR:
Rachel McIntyre
SERIES:

None
RELEASE DATE:
February 5th 2015
PUBLISHER:
Electric monkey
GOODREADS:
x
SYNOPSIS
Fifteen-year-old Lara finds her soulmate. There's just one problem – he's her teacher.
Lara's life has changed radically since her father lost his job. As the eldest, Lara tries to keep upbeat, and the one outlet for all her problems is her diary where she can be open about how dire everything is at home, and worse, the fact that she's being horrifically bullied at school.
And then a shining light comes out of the darkness – the new young and MALE teacher, Mr Jagger. The one person who takes Lara seriously and notices her potential. The one person who is kind to her. The one person who she falls madly and hopelessly in love with. The one person who cannot reciprocate her feelings … can he?
MY THOUGHTS
Before I start, I guess I should say that I'm not a big fan of student-teacher romances. I never have been. No matter how well written it may be, it always just feels so wrong. But when I heard great things about this book from the people of goodreads and saw it on netgalley, I decided to open my mind a bit and give this book a try.
Do I regret my decision? Not completely. But I did have a LOT of problems with this book.
I didn't really like the main character, Lara. I mean, I really did feel sorry for her and she was was funny and strong at times, but for a lot of the book I found her kind of immature and silly. She was
so
obsessed with Mr Jagger- not in a true love kind of way, but in a recording his voice and listening to it before she went to bed kind of way- that it just made me cringe to read about. As for Mr J himself, he was just too perfect. He could have been completely swoon worthy, but the way Lara described him just made me roll my eyes. I can't relate to anybody who is apparently flawless and god-like. Luckily, all the bullies were appropriately and horrifically detestable, but they didn't really have any other qualities to them. They were just plain evil. (With the exception of Chloe, who I really wanted to learn more about). This is probably because the book is told in the form of Lara's diary, so you only see what she thinks about them. Apparently she thinks all people are perfect or evil. (Apart from her parents, who happened to be the most interesting characters in the book.)
The bullying itself was absolutely terrible to read about, and I couldn't believe how horrible some of the things that happened to Lara were. That's not a bad thing, in fact I think it was probably one of the strongest parts of the book, but I have to warn you that if you're going to be triggered by descriptions of bullying and sexual harassment you really shouldn't read this.
The romance was sweet at times, but mostly it just seemed unbelievable. Maybe it was because the diary format only showed certain important moments, but there didn't seem to be any development or chemistry. There seemed to be no reason for them to fall so hopelessly in love that it completely jeopardized everything.
Furthermore, I felt like the book tried too hard to be funny despite the serious subject matter. Every sentence tried to be sarcastic and sassy, and sometimes it just didn't work. There were some moments that genuinely made me laugh, and I think that a lot of people will really enjoy Lara's voice, but most of the time I found it kind of forced and unnecessary. I also felt like a lot of the important topics that were mentioned in this book needed a lot more depth, and some things were just glossed over when I thought they could have been really interesting aspects of the book.
It wasn't all bad though, don't worry!
I found this book to be a very quick read (I read it all in one day) and it kept me entertained the whole way through. No boring parts here! Whatever else I say about it, I was interested in the story and it definitely kept my attention.
I won't tell you about the ending of this book, you can find that out for yourself if you decide to read it, but I thought it was realistic and satisfying and honestly it kind of saved the book for me. I also thought that Lara had developed and changed (for the better) as a character by the end of the book, which I really appreciated.
OVERALL
I think if you like quick, sassy books with some darker themes you might really enjoy this book. However, I thought it needed a lot more development and I didn't get on with the main character and her voice. Maybe it's just me.
2.75/5 STARS