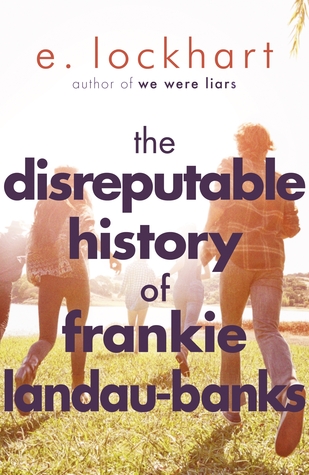 INFO
TITLE:

The disreputable history of Frankie Landau-Banks
RELEASE DATE:
First published January 1st 2008, this edition November 6th 2014
PUBLISHER:
Disney-Hyperion
GOODREADS:
x
SYNOPSIS
Fifteen-year-old Frankie Landau-Banks has grown up a lot over the summer. She's no longer daddy's little girl - and almost immediately after starting the new semester at her highly prestigious school, she bags goofy-but-gorgeous Matthew Livingston as her boyfriend. They get along great but then Frankie discovers that Matthew is a member of a boys-only secret society that specialise in 'hilarious' pranks. Which hardly seems fair... especially when Frankie knows she's smarter than any of its members. And to prove this, she's going to teach them a lesson.

Impersonating lead member Alpha by using a fake email account is surprisingly easy, and soon Frankie is setting the boys up with all sorts of ridiculous schemes and sending them on wild goose chase after wild goose chase. Alpha's not prepared to lose face and admit it's not him sending the emails - but the fun can't last forever, and soon Frankie will have to choose between what she think she wants, and the reputation she deserves.
MY THOUGHTS
I have to admit, however much I loved 'we were liars' (and I really did love 'we were liars'), I had no idea this book existed until it was released in a brand new version in the UK in November. After seeing E. Lockhart's name on the cover and reading the synopsis, I decided to give this book a go.
'The disreputable history...' was set in a boarding school, which got me interested before the book even started. My childhood Malory Towers obsession may make me slightly biased here, but I LOVE anything set in boarding schools and I loved that aspect of this book.
I liked the characters- especially Frankie, who was strong, smart and generally kickass- but I never felt very connected to any of them. Sometimes I got some of them mixed up, but that might have been just me. I think my disconnection from the characters, and the story as a whole, was mostly due to the writing. The book is written in third person and the prose seems quite detached from the story. I still enjoyed the writing style as it was unique and easy to read, however it did prevent me from completely getting into the story.
The plot itself was really interesting, however I felt that it didn't really get started until more than half way through the book. The first part of the book was mostly just Frankie living her life at school and talking to her friends and I thought it seemed like the characters were just having pretentious conversations to show the reader how smart they are instead of actually adding to the story. When the story finally picked up, however, I loved seeing how Frankie infiltrated the order of the basset hounds and the pranks she orchestrated were so fun to read about. I just wish that more of the book was filled up with the pranks, because they were hilarious.
I had one more problem with this book, and that was the info dumping. E. Lockhart included pages and pages of information about the story and the characters where nothing was actually happening. It didn't ruin the book for me, I just felt like the information could have been distributed throughout the story instead of me having to try and take everything in from a big block of text.
Now, my favorite thing about this book...the feminism. I've never read a YA book with feminism as a main theme. I've never read YA book with an openly feminist protagonist (screw that, just remembered Blue from the raven boys) who tells boys straight and doesn't take anybody's shit. Now I have, and I love it. If you only read this book for one reason, read it for the girl power.
Overall I really enjoyed this book; I thought it was a lot of fun and I liked Frankie as a main character. It had a few things that made me feel detached from the story and not enjoy it as much as I could, but I'd still definitely recommend it.